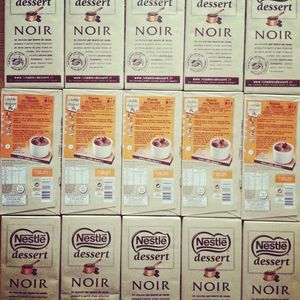 Rumor has it says that Henri de Toulouse Lautrec was the one who invented this desert under the name « mayonnaise de chocolat »: it is totally false. The first mention of « mousse au chocolat » was in the book written by Viard, Fouret (and Pierhugue) in 1820 : "le Cuisinier royal ou L'Art de faire la cuisine, la pâtisserie et tout ce qui concerne l'office, pour toutes les fortunes".
The first written proof of the chocolate mousse in the US is from a food exhibit organized in 1892 at the MSG (Madison Square Garden) of New York.
The recipe of my chocolate mousse is simple and is inspired by the one from Nestlé (to be fair).
INGREDIENTS:
7 ounces (200gr) of chocolate (between 50 and 60% of cacao)
6 eggs separated
1 tablespoon (15ml) water

pinch of salt
PREPARATION:
Melt the chocolate in a bain-marie (double boiler) or in microwave with a Tbsp of water, 1 minute: mix. Then one minute again: mix.
Beat the egg whites and salt until soft peaks are formed.
Once the melted chocolate has cooled slightly*, pour it slowly in the yolks and stir energetically (vigorously).
Stir the first third of the egg whites, then fold gently in the rest.
Turn into serving dish or dessert cups.
Leave it 3 hours in the fridge or overnight (I prefer overnight but 3H are fine).
*It must be warmer than body temperature. To test, dab some chocolate on your bottom lip. It should feel warm. If it is too cool, the mixture will seize when the egg yolks are added.
You're welcome, and now, it is your turn and don't hésitate to send your pics of your very french chocolate mousse: it is sooooooo simple!
The icing on the cake: this recipe is really the basic one in France. If you want to do a fancy recipe of the chocolate mousse you can add plenty of flavors (rapsberry, strawberry, orange...), some whipped cream, butter and even some liqueur. I personnally prefer it even without the yolks: it's lighter and still with a lot of taste!
See U and take care!