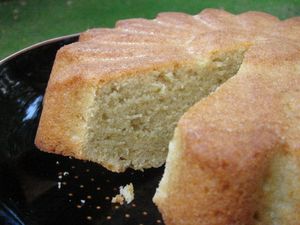 Litterally this is in english: «the 4 quarters» but americans are calling that «the pound cake». Here in the US, you put 1 pound of each ingredients which are :
Eggs

Flour

Sugar

Butter
See? 4 ingredients. The 4 quarters. In France we make this cake quite in the same way in the difference near that we weigh eggs at first and then we apply the same weight to all the ingredients which stay.
For exemple, today I did:
3 eggs = 6 Oz (ounces)

6 Oz of flour

6 Oz of Sugar

6 Oz of Butter
You just have to mix at first the powders (flour and sugar where you can add some baking powder) and then the eggs and the molten butter. Then you mix everything and you put it in a cake pan in the pre-heated oven at 355°F during 40mn.
The icing on the cake: the french touch, of course! Add 1 tablespoon of orange-blossom(flower) water. I didn't find some in the US. Mine is right from France and I hope that once I'll find some here. For the moment, the only place where I could find it was internet: THERE!
See U & take care
PS: in the futur I'll write all my recipes in english because this will help me for the language of course and it will also give me the chance to practice the american mesures (and that is pretty hard for me right know!). So, don't hesitate to correct me… Sorry… Please correct me! ;-)